Karavali Ayurveda and Medical Research
Karavali Ayurvedic Medical College and research centre established under the aegis of the G R EDUCATION TRUST is located at Neerumarga campus, Mangalore, Karnataka. Karavali Ayurvedic Medical College and Research Centre is a self financing institution, engaged in the practice and propagation of Ayurveda, one of the oldest and holistic health care systems of India.
Ayurveda, as most Indians know, involves the use of natural remedies to propagate healing and a healthy balanced life. The college is backed by state of the art facilities, including a 60 bedded hospital, which offers treatments at the minimum costs. The college is being initiated as a part of our endeavour to make cost effective and healthy alternative medicine like Ayurveda, available for all.
.......Read More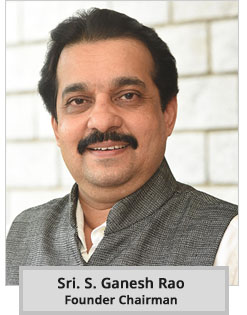 The Man who sees Tomorrow
There is no short cut success. It is always the ordinary people who do extraordinary feats...
A dream gives birth to a vision which thoughtfully is realized by relentless perseverance, grit and determination. The saga of Karavali Group of Institutions is a perfect testimony to many an adages that we only hear but seldom see dreams turned into reality. It is also an example of how "One man can think of the future and transform those thoughts into reality for the present".
.......Read More